Tripawds is a user-supported community. Thank you for your support!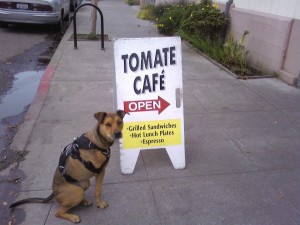 We went to a cute little Berkeley cafe today. I had been here before and noticed a dog. I looked at the website
http://www.tomatecafe.com/
and decided they must really like dogs as much as they like good food! Caira Sue made lots of friends hanging out on the patio.  She also got a lot of head scratches. Of course, she enjoyed helping her favorite friend, Pop, with his crossword puzzle.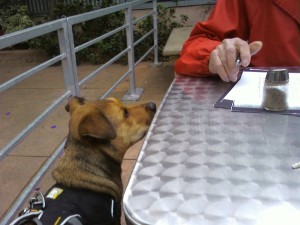 After this little adventure, she went on a walk around Berkeley. This is always exciting because there are lots of dogs there. Lots of dogs=lots of bushes and trees to sniff! Oh the things she sniffed! IF only she could tell us!
That's it. Another nice day with Caira Sue, traveling around the bay area and looking for people to love on my 3 legged dog.