Today marks 5 months since Caira Sue had her right shoulder blade and leg taken away from her and sent in for tumor research.
My sister and brother-in-law are in town visiting and yesterday we went to the coast. I know, lousy weather…but they came from Maine, so to them it's warm!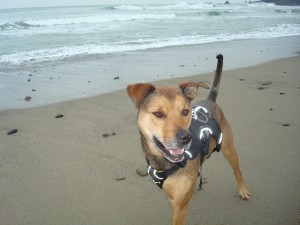 We went for a walk on the beach and Caira Sue had a blast. There were lots of smashed pumpkins (some kind of Pacifica tradition? I wasn't sure) and Caira had to pee on every single piece…not sure what THAT was all about.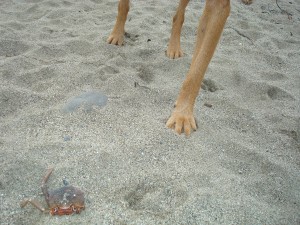 This is a crab she spent some time around….he was dead and missing all but two legs, but that didn't thwart her one bit.
Later my brother-in-law and I took Caira for a little cliff hike.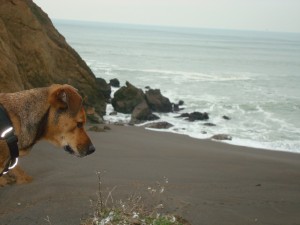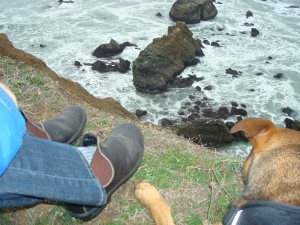 They enjoyed the view looking over the cliffs. The view was nice, and it really wasn't too cold. It was very peaceful watching the big waves coming in.
On our way back, Caira took off up into the trees. I thought she was after a rabbit and I had to use my mean voice to shout her name. Oh no, no rabbit. Caira Sue ran up into the trees to grab a tennis ball. Really? I think she can smell them from 100 ft away!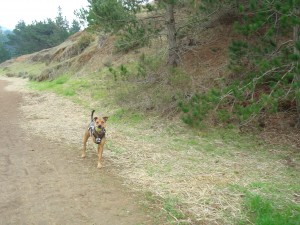 So, another good day playing, hiking and chasing balls. Yay, Caira Sue!