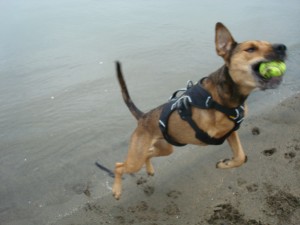 Caira Sue hasn't been feeling well since Christmas. She's been on a few short trips about town, but this was the first trip to play in over a week. We went to one of her favorite places, Sherman Island. And like always, we had the place to ourselves. Wahoo!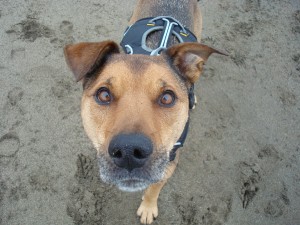 I like this picture. It makes her look like a cartoon character-all head, with a tiny body!
We took a drive in the country so Caira could smell her cows. She looooooves to stick her head out the window and sniff her some cow. Oh yeah.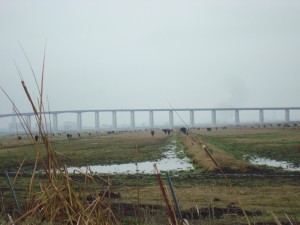 The other day Caira Sue was at the pet store and begged for a 24″ Bully stick. Caira Sue has never had a 24″Bully stick. She's never shown interest in 24″ Bully sticks. I personally think she took a look at Nova's christmas pictures while I was at work one day and got jealous. Oh, if Nova can have a 24″ Bully stick, so can I! So here she is, trying to eat a 24″ Bully stick. Oh, and that's the rescue kitten Polly on the other end. Polly hero-worships Caira and wishes she were a dog. She's always copying Caira!