This party was special.
Cemil has a birthday this month. Also, his 1 year ampuversary is this month. Also, he's a big, gentle and awesome dog. Another reason this party is special is because Max came from Southern California…just to see US! The third reason is that Caira Sue's 6 month ampuversary was yesterday. Wahoo! All VERY good reasons for a party.
Thought we should start these pix with Maggie wearing her Party Fairie wings!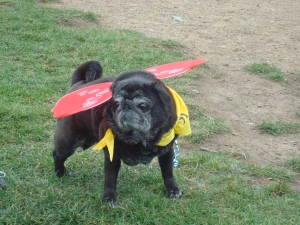 Here's the purple party pimp hat that Adam made for Cemil's birthday.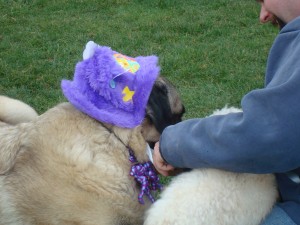 I think it was too small!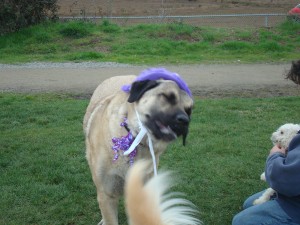 Not sure he was very fond of the gift!!!!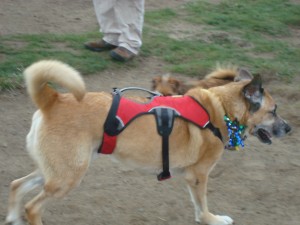 Max came to see us. He came ALLL the way from Southern California! Good thing he brought his coat, because it was COLD here today!
Max had a funny way of getting to know Caira. She didn't mind. Dog's speak funny languages sometimes.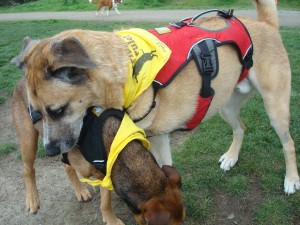 My father-in-law came and brought his neurotic, psychotic dog Sammy. Lucky for everyone, Sammy was on his best behavior. Lucky for you, he photographs well.
Here's the Shepherds together….Montana and Travis Ray: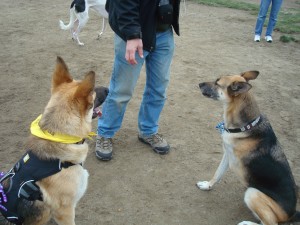 Shelby was her beautiful Fawcett self this month.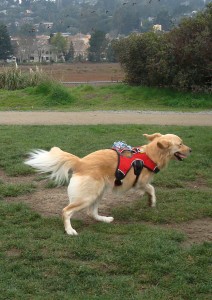 And Bob came!!! We were all soooooo happy to finally meet this man in person. I really enjoyed meeting him. As you may have guessed, his presence is as amazing as his online voice. Of course, I didn't get a picture of his face! Ha! You will have to meet him yourself to see what he REALLY looks like! What I did manage to snap though, was how he surrounded himself with Tripawds! Oh, how they loved Bob. I'm sure it had nothing to do with the bag of treats….
Here's a snap our beautiful girl. She did amazingly well today. Caira Sue made many friends…some with 3 legs and some with 4 legs. She doesn't discriminate!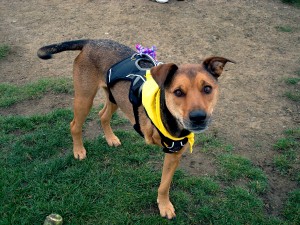 Adam was the dog whisperer today. He had them all hanging out with him.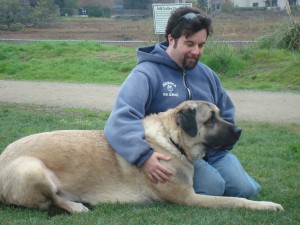 Here Adam and Karen are hanging out…one Pug each! Adam had Maggie and Karen has Tani.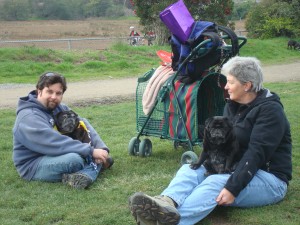 At the end of the day, Maggie was a pooped out party girl. I think this picture says it all.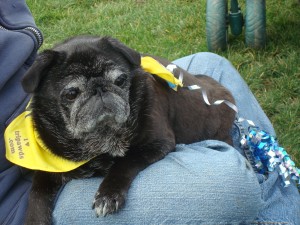 Since I started this blog with Tri-pug Fairies, I guess I will end it with Tri-pug Fairies. Or should it be Tri-Fairie Pugs? Your choice.