Tripawds is a user-supported community. Thank you for your support!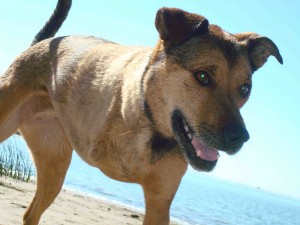 Finding someplace to play isn't always easy. We wanted water, we didn't want to have to drive an hour. We needed someplace with easy access to water-we knew Caira would dive in whether it was safe or not. It's hot. What do we do?
We go off the levee roads along the Delta and look for little corners of the world no one cares about. Or, almost no one. Seems there were plenty of fisherman along the rocks, but not when we got to the beach itself! Yay! Caira was in heaven. Adam finally got to see how good she can swim with her life jacket on.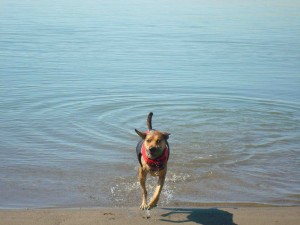 Here's some videos:
But boy was it hot. Adam fancies himself a little Bear Grylls. Sooooo, while I was playing with Caira he built us a little shade using the sheet from my car (so much for keeping sand off the seats!).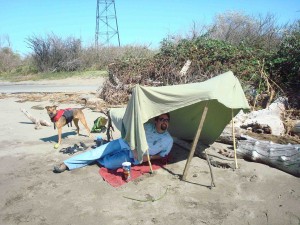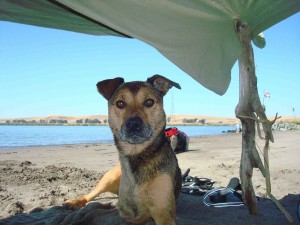 But hey! We all enjoyed the shade for a little bit today! Caira Sue for at least 3 minutes! It's so hard to keep her down now…it's hard to imagine her before the amputation. She really does seem younger now! Oh, and much more spoiled (sigh). What can you do? We love this girl.