Tripawds is a user-supported community. Thank you for your support!
A quick note to say that Caira Sue made some new friends in the last month. Wahoo!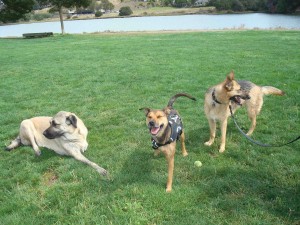 This was taken at Mill Valley Dog Park. Cemil is the big boy on the left (148 pounds!!!!) with a left front leg amputation. Caira Sue in the middle with a right front leg amputation and Codie Rae on the right  with a right rear leg amputation. What a motley crew!
Caira Sue thought the mud puddles were fun. After everyone else had their fill of muddy glory, up walked Cemil and PLOP! In he went! Too cute!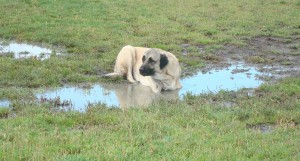 A few weeks ago we went to Flagstaff and met up with an old friend, Janis. She had a new friend with her…Icy Toes! Yes, Codie Rae, you heard it…another girl dog with 2 names! Anyway, during an unfortunate day when Janis locked herself out and had turned to talk to the locksmith, Icy ran out in the road. She suffered some radial nerve damage and is waiting her 6-12 months for it to re-awaken. It hasn't happened. Icy Toes says that seeing Caira Sue at 4 weeks post-amp has given her courage to face the odds that she may also be a tripawd soon. We enjoyed playing with Icy Toes, although Icy is quite protective of her toys! That's ok, she's used to having a whole basket of toys all to herself. It may take Caira Sue some time to convince her that communal living and playing is cool!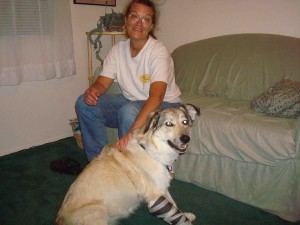 Anyway, we are looking forward to the Tripawds Party coming up this weekend!
Here's a snap of Caira Sue and her new best friend of the day, Codie Rae. Caira Sue likes to run for the ball while being chased and Codie Rae likes to chase running dogs-it's a match made in heaven!