Tripawds is a user-supported community. Thank you for your support!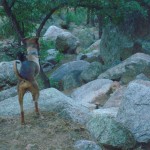 Hello everyone! We spent the last 4 days in Kingman with one of our favorite people, Christine! Some of the time was pretty boring for a dog-you see Kingman is in the desert. And although Caira WANTED to go play outside all day long, she realized pretty quickly that the ground was not that friendly while the sun was up! She did make friends with Christine's neighbor who played ball with her in the courtyard, though. She thought that ole man was pretty darn cool! He kept cheering her on and she was like "Ok! Throw it again!"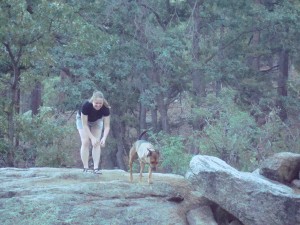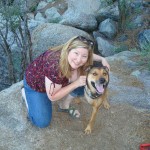 We took a trip up to Hualipai Mountain Park. OH MY GOODNESS! Caira Sue bounded out of the car and started running and jumping over boulders! I started shouting "wait! wait! you you are missing a leg!" and well….she didn't care! She was all over those rocks, just like she had been before. Our little desert dog-our little mountain goat. Do mountain goats do as well on 3 legs? Hmmmm
Additional notes: I forgot to add two things.
A. We ordered the really cool web harness for this trip, but due to a flumox at fed-ex, we did not receive it in time.
B. Caira Sue used to go an hour playing in the rocks, and then hike a good many miles with us. This day she got a 15 minute "pass" from me and we took a leisurely 30 minute walk up the trail. I was wondering if anyone can comment on how far their hiking dogs can go and how long it takes to get to that point? Watching her for clues is pointless. This girl will play until her heart pops! I have just been limiting her, due to her being a new amp. I take her on lots of short walks, but don't really know about the longer ones. Also, I don't want to stress her joints too much. Any ideas, advice, stories would be greatly appreciated.
Thanks!