Tripawds is a user-supported community. Thank you for your support!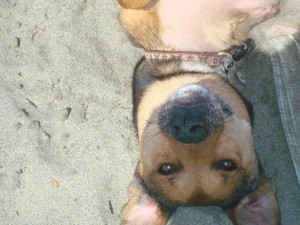 We went to Dillon beach today. Who can keep their girl away from the water after such an ordeal. Oh my! Did she have a blast! Only one episode where she dove a little hard on the right and squealed (heart pounding moment) on the water's edge, but she brushed it off true Caira Sue style and after an enforced 5 minute break, was ready to dive in again!
Here's a great shot of her leaping-3 weeks after surgery! Yay! I love the sand kick-up in the pix.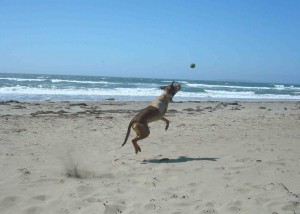 At one point we had 5 dogs on our blanket hanging out with Adam-talk about Dr. Doolittle! I was worried about how she would do socializing. I had honestly forgotten how deep her playful bark is! So, we had the same normal issues of "oh my! is your dog mad?" and "no-she's having a grand time and trying to get your dog to chase her!" ha!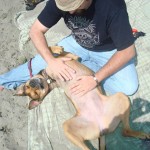 Of course it ended with a good pat down from her Poppa. We stopped in Petaluma on the way home to get a treat and something to give Caira Sue half a pain pill in on the way home (starting to look a little sore). But by the time we got home she was happier than ever. Now she's sighing and sleeping next to me. We count today as a success!