Tripawds is a user-supported community. Thank you for your support!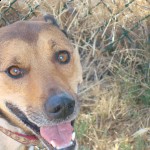 I have figured out how to add pictures…I think! Here's one of Caira's great smiles when we took her to Windy Cove.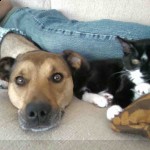 Here's Caira resting on the couch with her Poppa (Adam) today. Polly, one of our rescue kittens has taken to hangin' with Caira whenever she can! Before the surgery, Caira was so frustrated with the kittens she would grunt and hobble away. Now she spends time grooming them!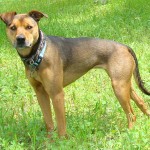 A picture of our girl on one of our last big hikes, this spring in Sunol wilderness. She's so beautiful here, and she ran and ran and ran that day! It  makes me a bit sad to think about it. I know she will run again, but it's just a little hard right now. I miss her energy…and I want to see her running like she did that day. Sigh.
Today was the first day of inhaled Gemzar. We had to spend a few days getting her used to the sound of the nebulizer. It's a 2 person process. I hold the tubing and work the chemo and Adam sits and keeps her laying with her head in his lap. I say it's a 2 person process, because I imagine it is a bit scary-she shook at first-but Adam has a very calming influence on animals. Also, Caira has always counted on him for safety and her alpha. You can sense her fear whoosh away when he takes control and sits with her-it's amazing. Anyway, an hour down and she did really good. Of course, I'm sure the Salmon Oil capsule bribes helped a little.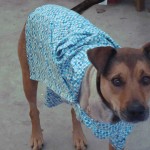 Had to go to Goodwill and find our girl some clothes! That E-collar doesn't work so well with 13 week old kittens who think she's a jungle gym! I thought this one was cute-Polyester! Ha! Anyway, it works…there's so many buttons and things in the way she can't chew on the nubbin'. Adam says his girl should have skulls and crossbones cuz she's tough–but I thought a gramma shirt would be a nice "hack-around." What do you think?
Onto my worries…Caira has developed an enlarged lymph node along her neck, not far from the incision. She will have it aspirated on Monday morning. I hope it's only due to the healing process, but I am very afraid for her. She keeps her head wrapped around to the left most of the time. Pain medicine does not seem to make a difference, so I don't know if she is in pain, or not feeling well, or what. This is when I need a babble fish to help me communicate!