Tripawds is a user-supported community. Thank you for your support!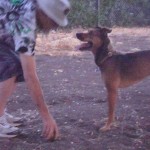 I haven't been on to post in awhile. It seems I'm having difficulty with the tripawds page. We all know Jerry is workin on this, so hopefully I will have a good solution soon.
Caira Sue has been doing really well. Her enlarged lymph node was a reactive hyperplasia from the surgery. Basically, not cancer. BIG sigh of relief!
The past 3 days she has been a hoot! She has more energy than she has had in 2 or 3 months. Yesterday she jumped up (paw on shoulder) and kissed Adam when he came home. He almost cried! He said he knows he's not supposed to let her do it, but it's one of those things he loves about her, and she hadn't done it for a month before the surgery. Now here she is, greeting her Poppa again!Here's a pix of her in her "swimsuit model" pose…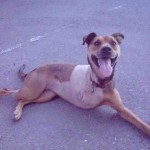 She's our little go-getter. She was a star at the clinic, everyone came to greet her-whether they were prior friends or not. She was just glowing and I think everyone likes to see someone who is doing that well.
The behavioral issue (turning her head to the side) seems to be subsiding. The oncologist had never seen a dog do that before and told me to watch her. So that's what we do! We watch.
She has had 2 chemo treatments now. She seems to be doing well. I think it makes her a little tired, so we did the 2nd one at night so she could "sleep it off" and it seemed to do the trick. Just a little fyi for any others thinking of doing inhalation chemo!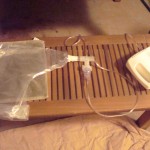 Next week Caira Sue is going to be adventure dog! We are going to go see Auntie Christine in Kingman, AZ and then off to camp in either southern Utah or Colorado-depending on a few factors. Either way, we are driving and we are camping! Wahoo! Get ready for cool pix.