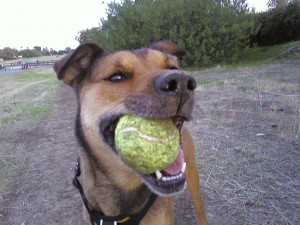 So, this weekend Caira had a great time playing and swimming with her BFF, Codie Rae. Unfortunately, I didn't bring my camera, so I didn't get pix. Hopefully, Codie Rae will put some up for us!
These pictures are from today. We went to the trail and played  a little ball. The wind is howling and the clouds are rolling. It feels like a great fall day in Northern California. Caira Sue had a great time running after her ball. I can tell she self-regulates a little more. Whereas she used to run continuously after Sammy (the neurotic, psychotic terrior that belongs to my father-in-law), she tends to sit more. She happily sits though! She wags her tail and chews her ball, with her head in the air and great big Caira smile! She loves the wind as much as her mom does.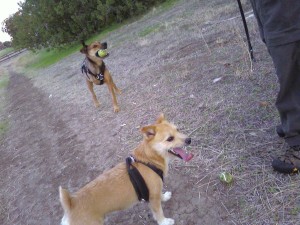 Neurotic, Psychotic Terrior: Sammy
We are living it up, every day. Good food (yes, lots of fruit with her salmon and chicken!) and plenty of fun chasing balls and playing tug with her rings. And of course, hours of endless belly rubs and ear scratches!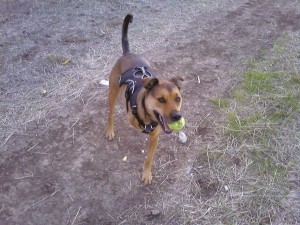 Happy Monday, everyone!